The Zoom We3G is the ideal way to connect portable Wi-Fi compatible devices to the high-speed cellular data network. The We3G's battery provides up to 4 hours of active Wi-Fi use, so you're not tied to a power outlet. The 4520 is smaller and lighter than most cell phones, so it fits easily in a pocket or purse, the console of your family car, on a table, or anywhere you need a fast Internet connection. Up to 5 Wi-Fi compatible devices can share your high-speed 3G Internet connection using We3G's built-in 3G modem and advanced wireless security.
The We3G is a small device with LOTS of performance. Its built-in cellular modem is an unlocked 7.2 Mbps Tri-band modem compatible with AT&T and almost every other GSM service provider in the USA, the UK, the rest of Europe, and everywhere else. Because it's unlocked, changing your service provider is as easy as slipping in a SIM for any compatible GSM Internet service provider, a real money-saver when traveling to other countries.
The We3G's built-in Wi-Fi compatible wireless g/b router has WPS for easy setup with the devices you choose to connect. Its rechargeable battery can be re-charged from the AC charger provided, or from any powered USB port. A Micro SD slot accepts up to 32GB so the Model 4520 doubles as portable storage. Enjoy the convenience of fully wireless high-speed Internet access! That means no wires connecting your Wi-Fi compatible devices to the We3G, and no wires connecting the We3G to a power outlet. It's easy with the We3G from Zoom Telephonics, a Boston-based communication products leader since 1977.
Zoom's We3G mobile hotspot includes pre-defined 3G service provider settings for service providers in the UK, Jersey, Ireland, Isle of Mann, USA and Europe. This means you can use any data enabled 3G SIM from any network you choose, simply insert the SIM of choice into the Zoom mobile hotspot and enjoy Wi-Fi anywhere - The included software will automatically identify your service provider and connect to the correct settings!
Included service provider settings include O2, Three, Orange, T-Mobile, Vodafone, BT, Virgin, Jersey Telecom, MANX Telecom, AT&T end more even more on the pre-defined list. If you are with a provider which is not on the extensive list provided, you can simply enter the settings your self.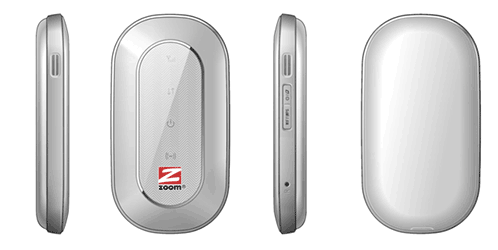 Highlights of the Zoom We3G Mobile Broadband Hotspot (SIM Free)
A totally flexible approach to complete mobile Internet connectivity…
A personal wireless hotspot for Wi-Fi enabled devices (Laptops, iPad, Cameras, iPhone etc..)
A portable storage device utilizing Samba system via Micro SD card
Files sharing among other users on your MiFi network
High speed 7.2MBPS 3G connection speed
Built-in battery with 4 hrs continuous use under Wi-Fi mode
Easy Wi-Fi Protected Setup (WPS) by one click of button
Modem mode for connection to a single computer (any Operating System)
Charge via included mains or USB adapter
Weight just 80.4 grams including the re-chargeable battery
Dimensions just 51 x 95.4 x 14.84 mm
GPRS

3GPP Release 4, Multislot class 10, up to 85.6Kbps
GSM / GPRS / EDGE

850/900/1800/1900 MHz
UMTS / HSPA

1) 850/1900/2100MHz
Frequency Band

2.4GHz
802.11 b / g

Up to 54Mbps
Data Transmission Speed 802.11g

6, 9, 12, 18, 24, 36, 48, 54Mbps
Data Transmission Speed 802.11b

1, 2, 5.5, 11Mbps
Encryption

WEP Encryption, 64/128 bits, WPA, WPA2, + Authentication: 802.1x, Pre-Shared Key (PSK), + Encryption: AES, TKIP
SSID

Single SSID Broadcast
WPS

Supported
Range

Approximately 10 metres
Concurrent Wi-Fi clients

Maximum of 5
3G / 2G Main Antenna

1, Internal
3G Rx Diversity Antenna

1, Internal
Wi-Fi Antenna

1, Internal
micro USB

1, For LAN, Charger, Debug
USIM / SIM Card Slot

1, embedded in battery box
Micro-SD Card Slot

1, embedded in battery box
TCP / IP

Supported
UDP

Supported
DHCP Server

Supported
NAT / NAPT

Supported
DNS Relay

Supported
SNTP

Supported
UPnP

Supported
DMZ

Supported
MAC / URL / IP Filter

Supported
VPN Pass-through

Supported
Firmware update

Support via web
Lion Battery

1500 mAH, Working time 4 Hours, Standby time 20 Hours
Dimensions

95 x 51 x 13.5 mm
Weight

60g
Operating Temperature

0 to 50 degrees Celsius
Operating Humidity

10% - 90%
Storage Temperature

-10 to 70 degrees Celsius
Storage Humidity

5% to 95%
CE

Supported
Standard Package Contents

3G Hotspot, User Guide, Wall Charger, USB Charging Cable